Amek nl_08: New tapes by Conjecture & Leaver
New tapes, new mixes, events and exclusive demos
Anyone familiar with us knows that apart from publishing music on a pretty much monthly basis, we are, or at least were up to a few months ago, pretty active in booking shows. However, the COVID-19 and all of the prohibitions that came with it, put an indefinite pause to all of our booking activities. Instead, as you have probably seen, we put all of our focus on releasing new music, managing to put out quite a few tapes and an LP since the pandemic started. Well, the drought is over and this month we are back not with one but two new events, a concert and a pop-up store. Of course, we aren't ditching the nice release routine we've made in the past few months, and have two new tapes coming out, too.
New Releases
Conjecture "∫V"
After last year's spectacular LP V, Conjecture returns this month with not-less-worthy companion EP to the album, titled ∫V. Both a worthy finale of what was started with V and an interesting look at auditory explorations the project is headed towards, the three pieces on ∫V present a very interesting aspect of this Greek project. Side B contains reworks of the three pieces by LATE, antechamber & Талос.
Listen to ∫V on tape (ltd. to 66) and digital here.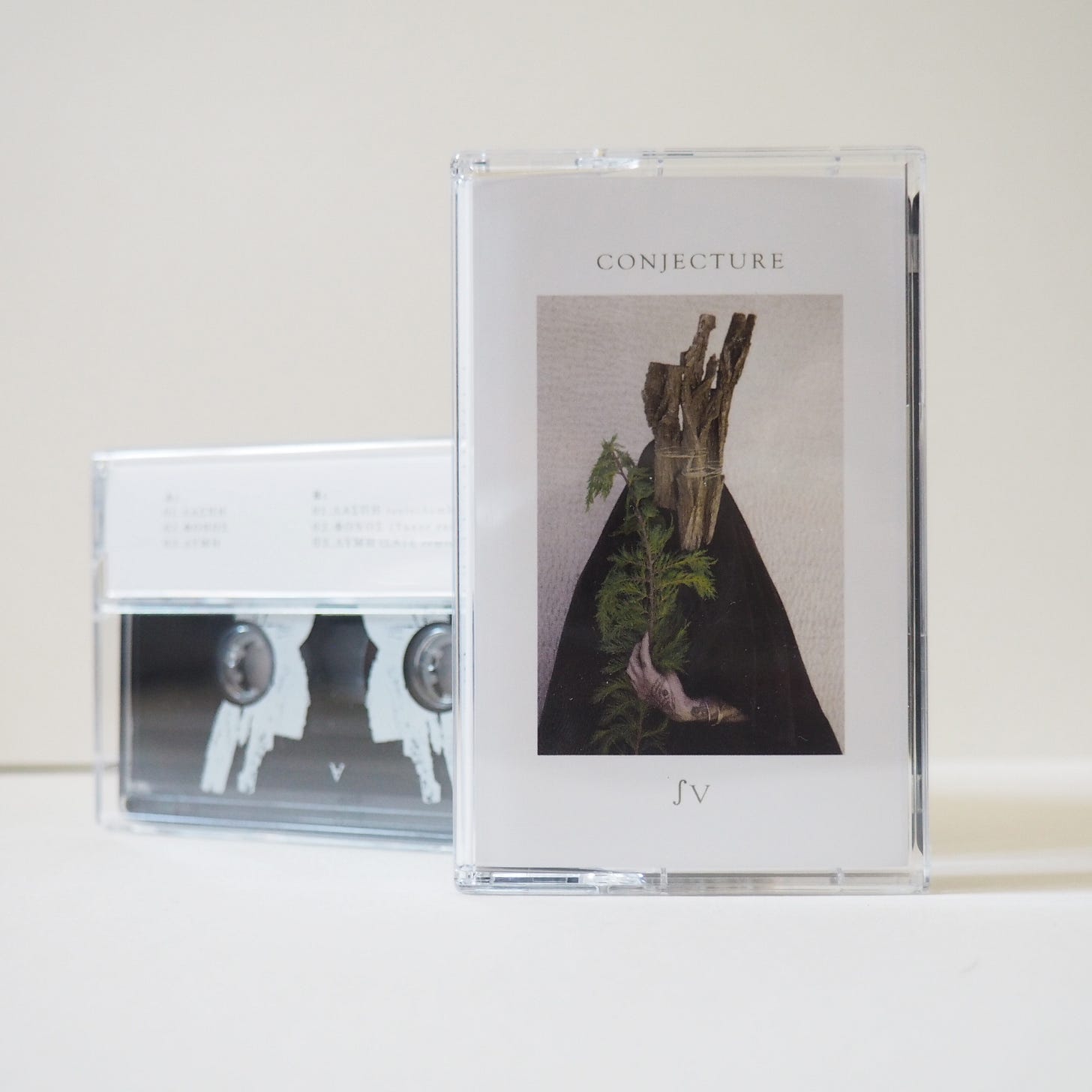 Leaver "Hands Like Cages"
Four long years after their last full-length for Amek and three years after their splendid collaboration with Time Holehouse, Leaver, return with their newest full-length Hands Like Cages. Recorded in Sofia, Bulgaria, and Breda, the Netherlands, this new release finds the duo of Angel Simitchiev and Daniel Donchov create a mix of droning singer-songwriter music and dense textures that is beautiful and spacious.
Dive into Hands Like Cages on tape (ltd. to 66) and digital here.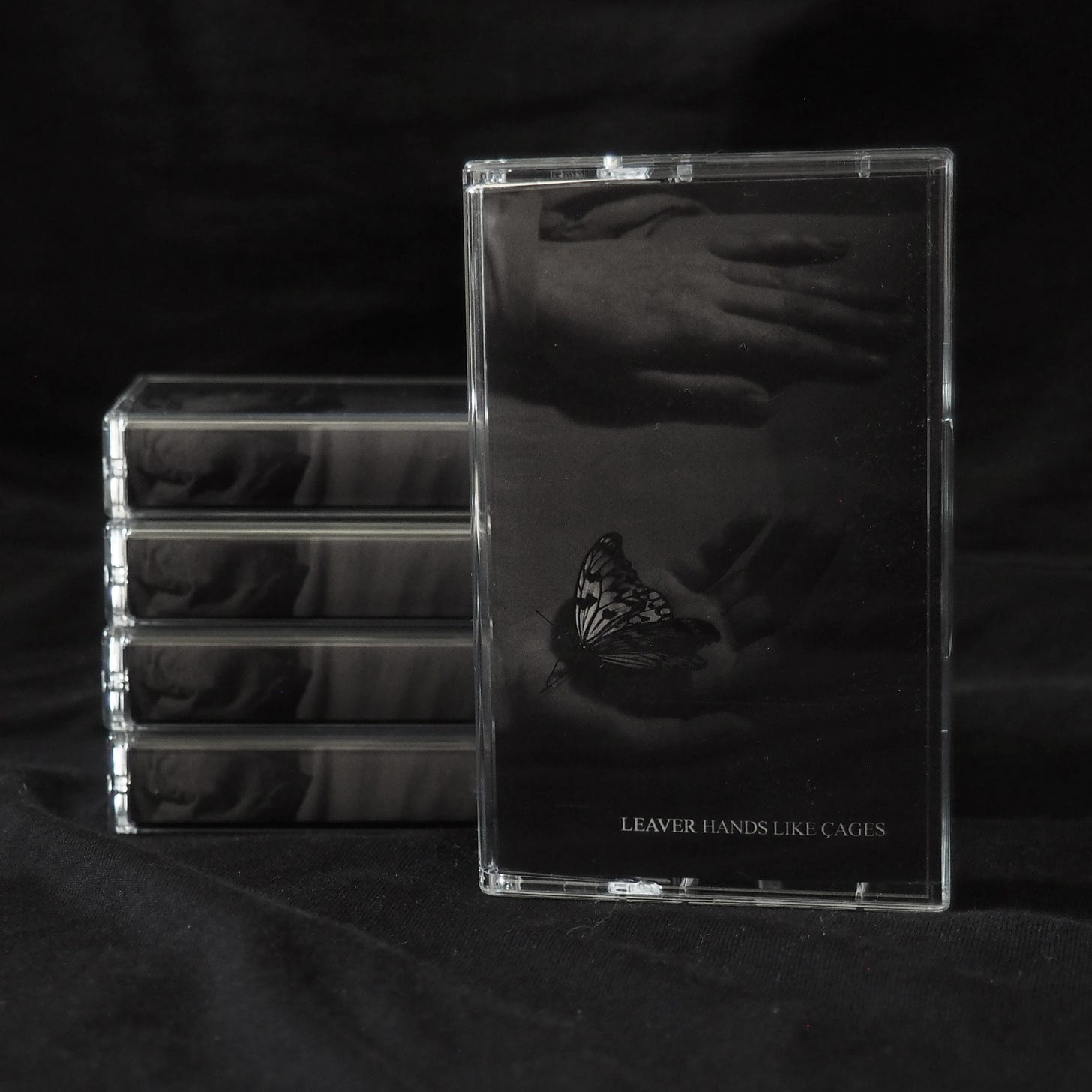 Video
At the end of August, Leaver presented the video for "Within Reach" from Hands Like Cages. Watch it below.
Concert
Leaver will debut Hands Like Cages in full today at Dom na Kinoto in Sofia. The concert was supposed to be headlined by the Dutch lute player Jozef van Wissem but he had to cancel at the last moment due to unforeseen circumstances. Instead, his place will be taken by the project Ambient Folklore. The poster is redundant at this point, but our friend Alexandru Das (VALERINNE) created such a beautiful design that we couldn't stop ourselves from sharing it with you.
Important! As the concert will be prix libre, we ask you to donate some money at the entrance, so one of the most important concert organizers and music journalists in Bulgaria can recoup some of the epic losses he will incur from Jozef van Wissem cancelling his four concerts in Bulgaria at the last moment. Donate and support the scene. RSVP here.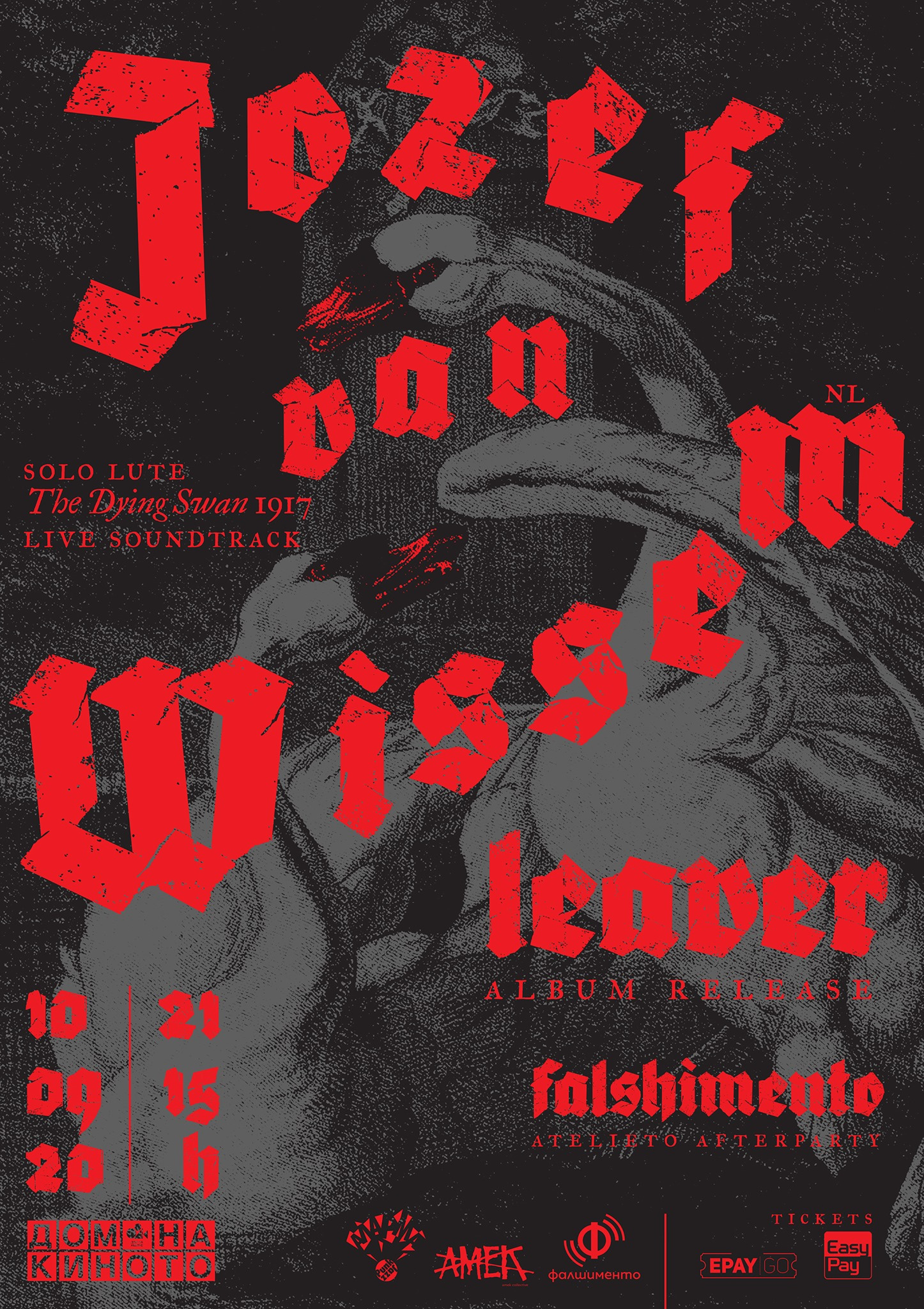 Pop-up store
On September 12th, we are doing a pop-up shop at Catch A Fire Second Hand Record Store in Sofia. There you can not only hang out with us for the first time in more than half a year, but also listen to and buy some of the hundreds of new items we managed to get for our distro. Expect tapes, vinyls, and CDs from Drone Records, Hyster Tapes, falt, tsss tapes, Zoharum, our good friends from Mahorka and Kontingent, and many more. While you're visiting us, you can also check Catch A Fire's killer selection of LPs. We are really looking forward to spending a slow afternoon full of nice music, good old friends, and hopefully a few new ones. So, don't be shy, come and say hi.
P.S. The Amek dog is courtesy of Maxim Mokdad (OOHS!).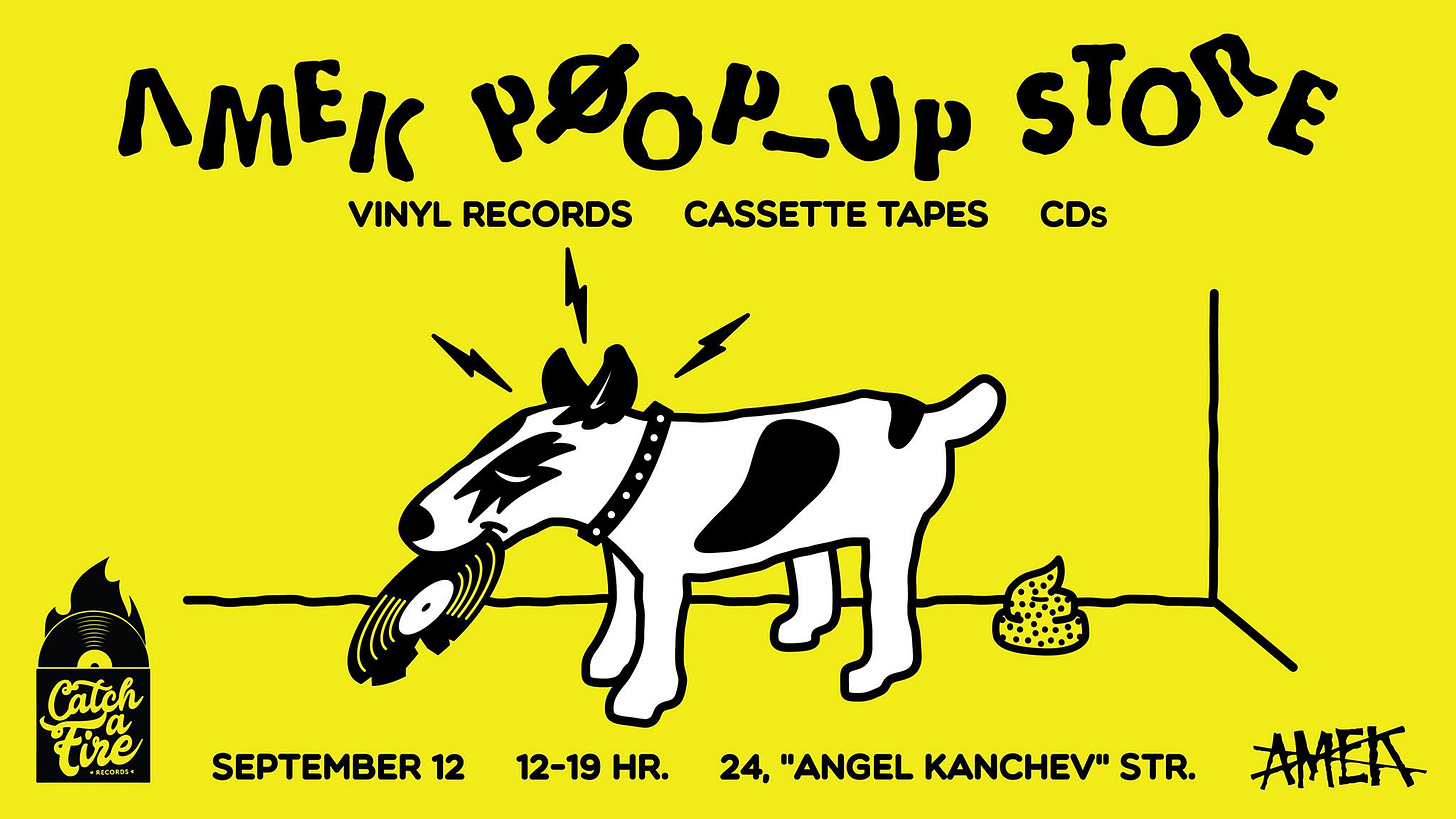 Thread Radio Mix
On August 21st, we were invited to do a six-hour-long takeover at threads radio. We decided to call it 7km in tribute to the location where we print our tapes. We shared the radio show with five of our friends who made amazing hour-long mixes. Listen to our mix as well as those by phlp., Evitceles, krāllār, V-Stok, and Conjecture here.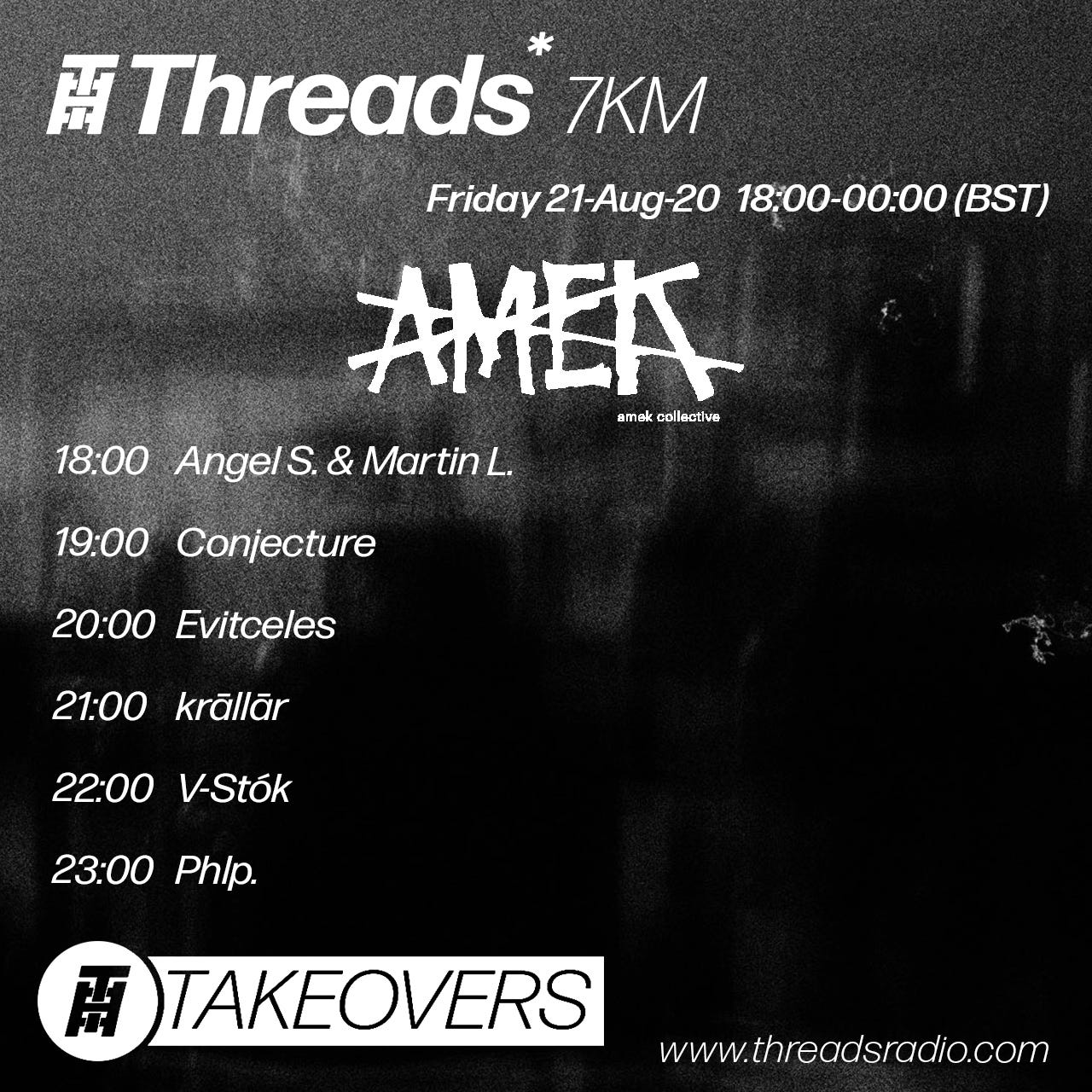 Newsletter Exclusive Demos
This time last year we started a new series of tapes titled EXPERIENCE with XI-N's debut for Amek, the devilishly danceable generative piece Pulsar. As a way to celebrate the anniversary of the release and the welcoming of Dovlet Shyhmyradov to our family, we are sharing a few demos he made in preparation for the performance on which Pulsar is based. Those are available here only for the Amek Newsletter Readers.