Amek nl_07: New tapes by krāllār & Nocktern
New tapes, video, and a distro update
July was busy and we're now finally able to release tapes from Nocktern and krāllār, two records we've been working on and off in the past year or so. We've cooked you an epic newsletter this month so dig deep and enjoy.
Releases
We first heard the music on both krāllār's big sad and Nocktern's NoStalgia about a year ago during Amek Bummer Nights (here's a set of beautiful pictures from the event). We immediately commissioned them to recreate them in a studio setting. They did so in February 2020 at Stoimen Stoyanov's Glitch Lab Studio.
krāllār "big sad"
Behind the seven pieces in big sad lies a single-take studio recording of intense tape collages, reamping of found sounds, tape loops, and almost Feedbacker-style fuzz worship. Beautiful and vulnerable even at their rawest and noisiest moments, the tracks on big sad see the artist's trademark tape work reaching new planes of emotional complexity and depth.
Experience big sad on tape (ltd. to 50) & digital here.
Nocktern "NoStalgia"
NoStalgia is a watershed moment for Nocktern as it is the last recording before its transformation from a solo act into a duo. Careful and precise, yet live and free, the three movements found on the piece herein freely cross and amalgamate disparate genres and aesthetic influences to a result that makes us long for places, feelings and time that will never be. 
Immerse yourself in NoStalgia on tape (ltd. to 50) & digital here.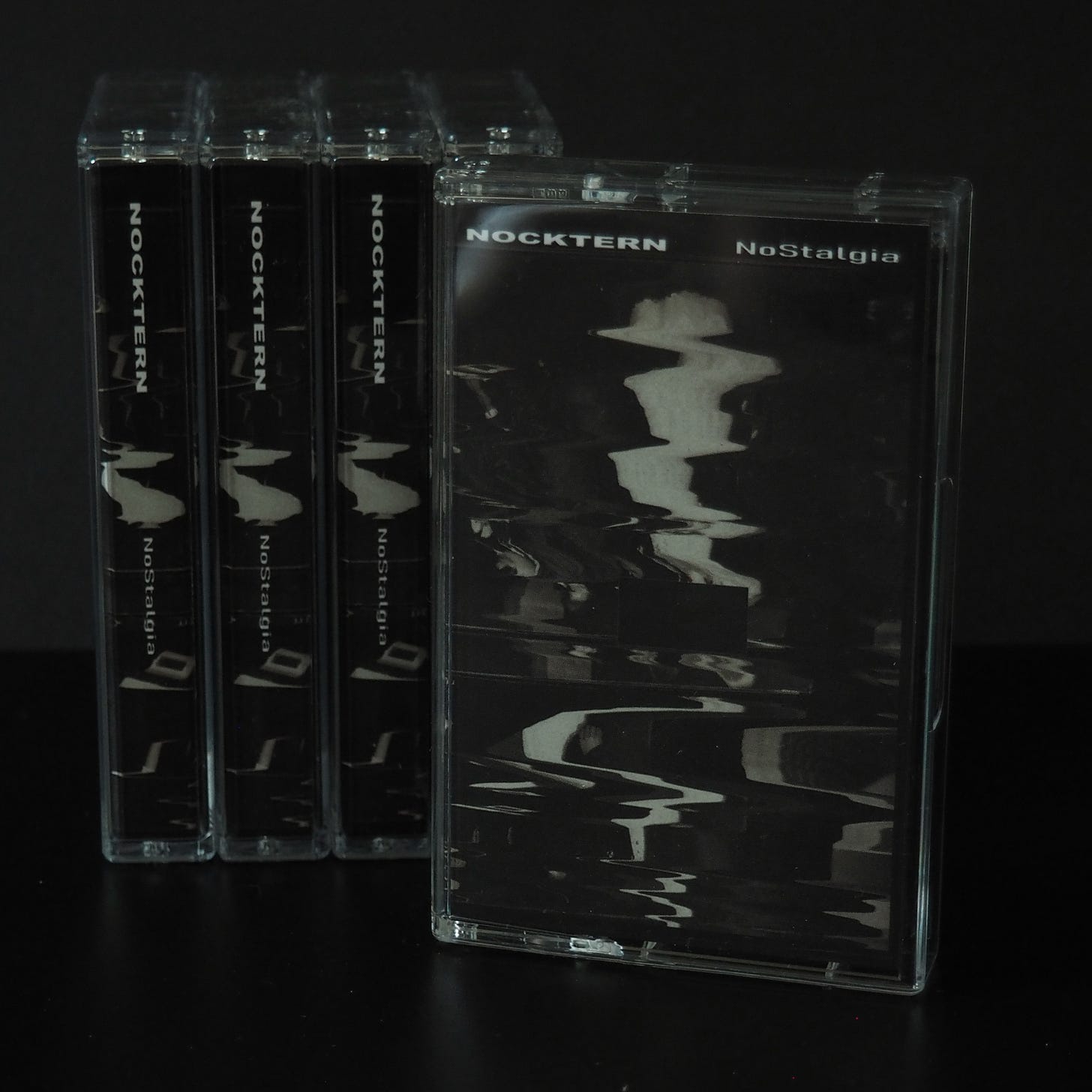 Still Hot
Our biggest release of the year, Mytrip's Keeper has been met with overwhelmingly positive responses both from fans and the media. The album got rave reviews from Mes enceintes font défaut (read here in French) and Noise Receptor (read here). It also sold more than half of its run, so we recommend you get yours soon. While it's still available through our Bandcamp, copies are also distributed by Alchembria (Poland), Consouling Store (Belgium), Drone Records (Germany), Le Disque Noir (Greece), Nuit Et Brouillard (France), etc.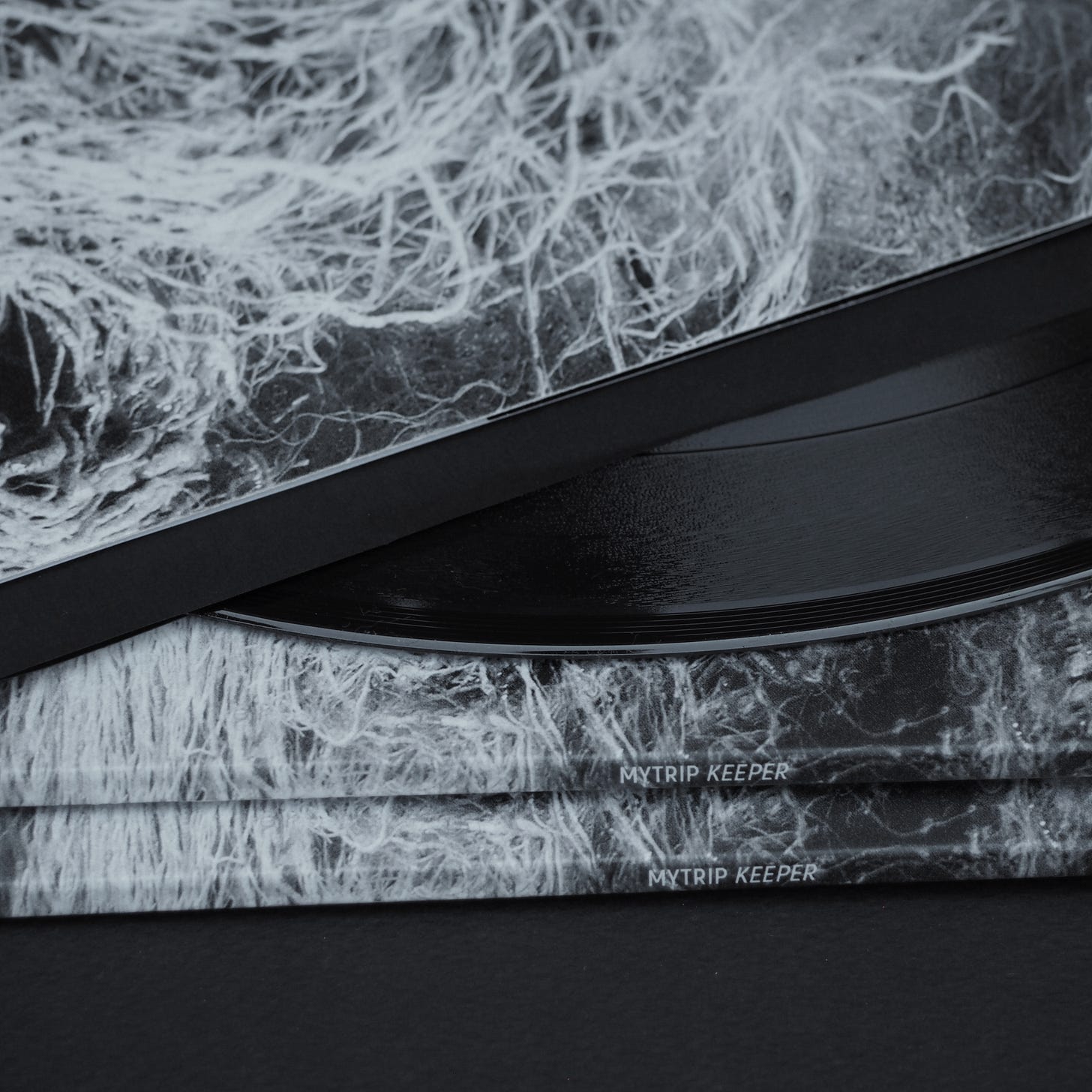 Reviews
Apart from the focus on Mytrip's newest release, a few of our other recent tapes got reviewed by some of our favorite sites.
Amek Drone Ensemble's Op.1 got a review in Tabs Out (read here).
Video
"Σάρκα" the closing track of Conjecture's V got itself a pretty cool video. It comes more than a year after the album's release, but as they say, better late than never. Also, keep your eyes on Conjecture as there's a new EP coming real soon. Watch it below:
Mixes
Evitceless started his bi-monthly residency at Ma3azef with an awesome mix containing a few of his untitled new pieces. Listen to it here.
V-Stók did a mix for the Koden Podcast. Listen to it here.
Distro Update
After three months of waiting, we finally received the newest issue from what is by far the best zine on post-industrial music, Noise Receptor Journal. As is usual for us, we wanted to understand it better, so we did an interview with its creator, Richard Stevenson. The result was one of the most detailed insights in his creative efforts and reasons far too long for a newsletter. If you're interested in the entire conversation with Richard, well, that's another reason to look forward to the next issue of our annual zine Comfort Club, expected early 2021. Until then here are the essentials. Our conversation is available in Bulgarian thanks to our friends at Lunatic.bg. Lastly, feel free to contact us if you want to get a copy of Noise Receptor Journal no.8.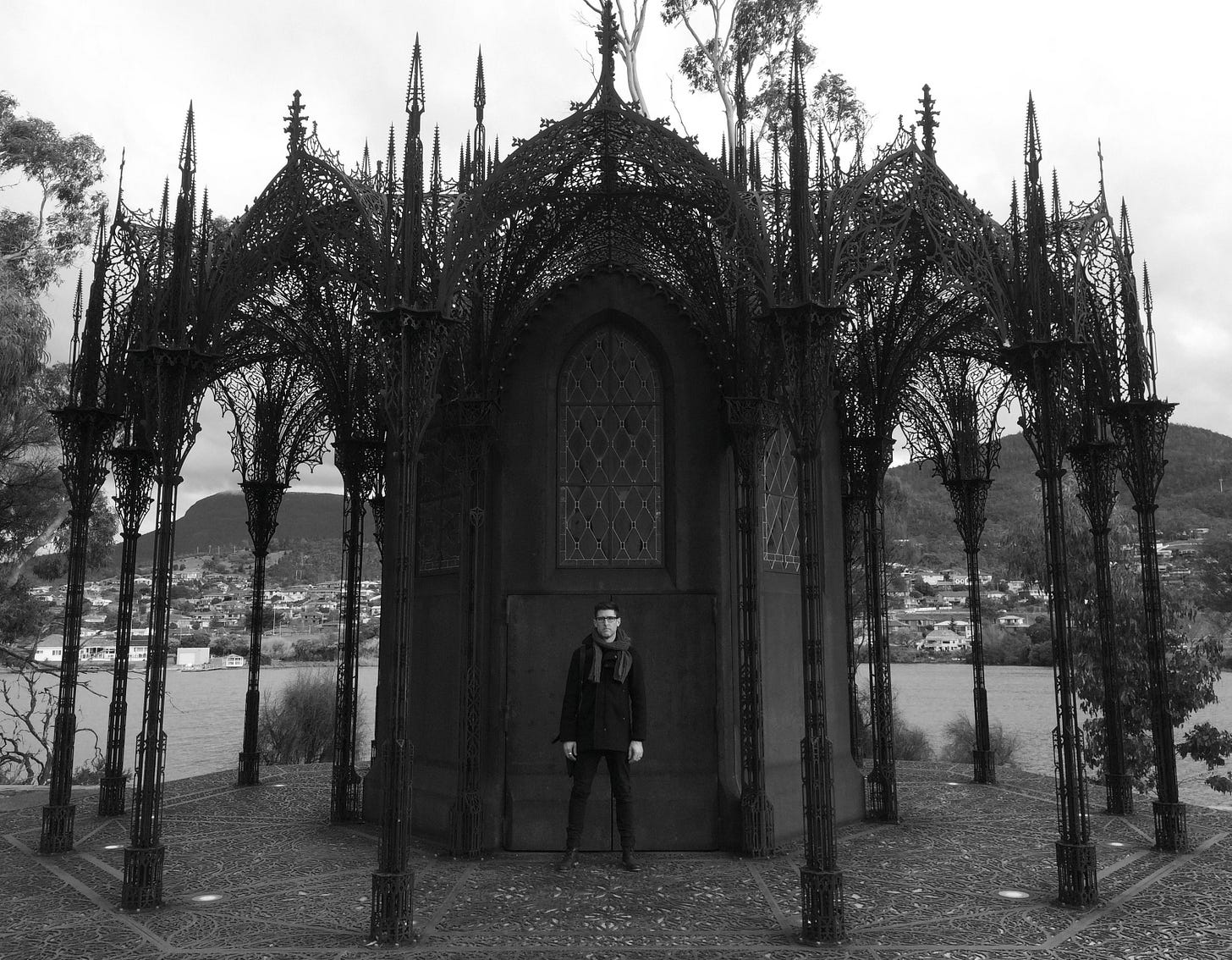 Print media as a filter from the information overload - an interview with Richard Stevenson from Noise Receptor Journal
The annual Noise Receptor Journal is one of the last remaining printed zines that focus on genres such as dark ambient, death industrial, and power electronics. The zine is written and designed by Richard Stevenson for whom this is a second publication after Spectrum Magazine. To learn more about what made Richard return to publishing physical zines and what is their function in the current oversaturated with information distractions world, read below.
Can you please introduce yourself and Noise Receptor to those of our readers who might be hearing for your zine for the first time?
Hello and thanks for the opportunity. My name is Richard Stevenson, resident of Melbourne, Australia. Other personal details of my life are not so relevant, but with me having actively written about underground music since the late 1990s, that will provide a vague indication of age.
As for Noise Receptor, it is a staunchly underground publication which focuses on the often maligned but largely ignored post-industrial underground spheres, and particularly dark/ritual ambient, power/heavy electronics, death industrial, and post-mortem sounds. Noise Receptor is my second publication, following my original publication Spectrum Magazine, which released five issues between 1998 and 2001 (a sixth issue was substantially completed, but cancelled in 2002 before publication). My second publication, Noise Receptor, commenced in late 2012 as an internet-based review blog. But after around 6 months of online activity I felt something to be missing in physical tangibility, thus launched the first print issue on Noise Receptor Journal in early 2013. I have since released a print issue every year since, with the eighth issue being released in April 2020 into the currently Covid-19 ravaged world. 400 copies have been distributed thus far, and thankfully only a few parcels have gone missing despite the significant upheavals to the global postal network.
You have been writing about underground music for more than twenty years. Can you tell us what made you start doing it and how you got into zines?
I first got into underground music in the early to mid-1990s and specifically the black metal underground. Given the internet was only in its infancy and letter writing was still the norm, 'zines were an integral part of the underground network to obtain information. At the time I was a rabid collector of underground music and 'zines, and soon made contact with a person who resided in the same city as I, who produced his own 'zine. That individual was Scott Van Dort of Blood Inscription, and the initial contact led to me collaborating and providing written material and artwork for his publication. That involvement in the 'hands-on' DIY approach to 'zine production functioned to 'light the fuse' for me to consider starting a 'zine of my own. That was a couple of years later via Spectrum Magazine when the first issue was released in 1998.
You started writing reviews and conducting interviews before the spread of the internet. How does your current process differ from that of, say, the end of the nineties?
As mentioned above, 'zines were an integral part of the information network before the internet took over that role. At the time when I was publishing Spectrum, I had a sense that content needed to be fresh and relatively up to date, and hence was part of the reason why I managed to release five issues in less than three years.
However, speaking of today, the current process of 'zine production is more of a specific reaction to the constant barrage of information that the internet creates. In that context, I see that a printed 'zine will function as a 'filter' which will be read in more quiet and contemplative moments. Essentially, I seek to cut through the 'information overload' of the internet and highlight and focus on important artists and releases which people may have otherwise overlooked. In this context, I do not feel it necessary for Noise Receptor Journal to be 'up-to-the-minute', and hence why only a single issue has been released each year since 2013, more as a document of the period it covers.
Lately, we've noticed a revival of newsletters in the digital domain, also podcasts are going strong, are you interested in these formats? 
I can't say I have seen many digital newsletters covering stuff I am interested in, so not sure if I am missing anything?! But yes, I have noted I major rise in podcasts. I am quite selective of what I listen to though, as it mostly functions to take away from available time to listen to actual music. The Noisextra podcast is the clear standout in this regard, where the depth of knowledge, research, and enthusiasm of the team makes for a very interesting and entertaining listening. But with that said, I don't listen to all of their podcasts, and tend to focus only on the releases or artists I am already a fan of, given they do have a larger coverage of pure noise-related music, where my own listening preferences tend to only skim the peripheral edges of the noise genre.
But for some other interview-based podcasts I have listened to, I have noted that conversational interviews are more often than not a letdown, as asking questions on the spot in a conversation means the responses are more 'off-the-cuff' and less detailed than I ideally would have hoped. It takes a quite special interview subject to be able to go into depth in such an interview format, and hence the reason my interviews are done in writing, which allow the interviewee time to think about the answer in detail, and where the written format allows greater depth to be provided.
As you mentioned earlier, Noise Receptor Journal started about a decade after Spectrum Magazine. In what ways do the two zines differ from one another?
I have partly covered off on that within the response above, but with regard to further differences, it is essentially alluded to via the title. Spectrum was a 'magazine', while Noise Receptor is a 'journal'. Accordingly, I see the role of a 'journal' to be a publication that specifically functions to delve deeply into its coverage and is not merely a vehicle for an artist to promote their latest release. The format also reflects the 'journal' tag, where it is published and a pro-printed A5 booklet, while the graphic design is relatively clean, simple, and streamlined, which functions to focus attention on the written word itself.
You have made it your life's work writing about artform at the fringes of the acceptable, both aurally and visually, but also as of late, politically. What is your opinion about the relationship between art and politics?
'Life's work' sounds a bit melodramatic – and in truth, I have spent less than half of my life on covering underground music - but I get the sentiment, so thank you.
As for the relationship between art and politics, it is an interesting one. A critical part of my response hinges on the fact that I have absolutely no interest in any music or art which seeks an actual role in day-to-day politics or pushes a real-world political agenda. Where that is the case, I see that it functions to exclude the 'art' element and makes for pretty dull results. To my mind good art functions to reach beyond the mundane aspects of day to day life. While art can choose to address politics in either a direct or indirect way, doing so does not make the end result inherently or immediately 'political'.
But these days there seems to be a lack of interest or understanding in the role of purposeful ambiguity and not providing easy answers; where it is necessary for the listener to pick apart a release and make their own analysis and conclusions of the meaning. Many people seem to want an easily digestible, pre-packed message, and expect the artist to make a clear statement on the meaning of the work and what people should think/feel. To my mind, this completely removes any intrigue and ambiguity and is the exact opposite of how I approach the material I cover; where I want the process of becoming acquainted with a release to require some intellectual rigor on my part.
Also, as another observation, where an artist uses potentially controversial themes or ideas, some people seem to confuse that with the specific views of the artist. Yet in other artistic fields such as actors, (generally speaking) no-one confuses the actor with the roles they play. This is not so in the field of music, culturally we for some reason are in a position where musicians are meant to constitute the pure and unadulterated embodiment of the message/theme/concept they voice or present. To have it said, I simply do not approach listening to and appreciating underground post-industrial music in this way.
To round out the answer, I can only speak from my perspective, but my interest in underground music is driven more by questions raised in my mind than any 'drum-beating' on any particular issue, which to have it said I find nauseatingly 'teenage' in approach. Essentially the best art is the art which raises questions and confronts personal assumptions and opinions, and in this context, a quote from Cesar A. Cruz is extremely relevant: "Art should comfort the disturbed and disturb the comfortable".
A few months back Headpress published the Spectrum Compendium while the first three sold-out volumes of Noise Receptor are slated for a volume coming this September. What feedback have you been getting for those collections, especially having in mind it's now pretty impossible to acquire old Spectrum issues and even copies from the early Noise Receptor mags?
The Spectrum Compendium book (a publication of 400 pages collating the six issues plus a wealth of bonus content) came out in March 2019, so it has been out just over a year now. I would not say that I have been flooded with feedback on the book, but of the couple of reviews, the various emails I have received, and social media posts I have seen, all comments have been resoundingly positive. In fact, I have not seen any negative comments at all, which is equally a positive, so it would seem that Spectrum Compendium has found a receptive audience who understands the intent of what it is all about. The fact that Headpress has been so positive about getting the Spectrum Compendiumbook out, as well as the upcoming series of volume books for the older sold-out issues of Noise Receptor Journal, is greatly appreciated and means my 'zines have longevity and global reach well beyond their original print runs.
To have it said, I do not release my publications for egotistical reasons, rather I do it as a means for important archival purposes. There should then be no mystery as to why Spectrum Compendium has a tagline of 'archival documentation of the post-industrial underground'. I have also taken the decision to use the same tagline for the Noise Receptor Journal reissues given those books have a similar role.
To my mind having information in print and widely available is important to the longevity of the post-industrial underground. As an example, the Re:Search Industrial Culture Handbook was first released in 1983, and although I did not obtain it until the late 1990's, it was invaluable in documenting the earliest phase of the industrial movement. If that sort of information remained only in a limited run underground 'zine, it is effectively lost to the next generation.
Speaking about the future, what are we to expect from Noise Receptor, both the magazine and its digital incarnation?
I guess I intend to keep the Noise Receptor blog and the print Noise Receptor Journal active as long as I have the passion and drive to do so. Currently, Covid-19 has put a major 'spanner in the works' with my established routines, where I have still not formulated new routines for the process of review writing, but I guess that will come with time. Obviously, I do intend to maintain the Noise Receptor blog, which is a good forum to be able to quickly publish prepared reviews, which will later be 'archived' in the next print issue. Noise Receptor Journal as a publication then features interview and artwork which are not provided online, as these are best read and viewed in physical print form, where greater time will be (hopefully) afforded; which differs from the quick skim reading of interviews and viewing of artworks for a few seconds if the material was presented online.