Amek nl_03: World on lockdown, cancelled shows, mixes, distro updates
Plus a special interview with our friends at tsss tapes
Hello,

We truly hope this issue of the Amek Newsletter finds you safe and calm, at least as much as it's possible in these difficult times. Throughout the past three weeks, we've tried to keep a low profile. We've been abstaining from live streaming activities and we did also put on hold our scheduled releases. At this moment the last thing we want is to contribute to the already overwhelming information flow. However, we're eternally grateful to everybody who've supported the label and our artists on the Bandcamp no-fee day. Your contribution is much appreciated. Below is the rest of the news around us for the past month and a special interview with our Italian friends at tsss tapes.
Cancelled concerts
a-m_e|k p_84 with Overdriven Dreams and TFSL mono that was supposed to happen on March 13, 2020, had to be canceled due to the lockdown in Europe and the Bulgarian government announcing a state of emergency. The two Mytrip & V-stók UK shows on March 19-20 were also dropped for safety reasons but definitely, hopefully, it was for the better.
Radio
Last month a few tracks from past and future Amek releases were featured in a number of radio shows and podcasts from around the globe.
Ergomope's "Люлка от пламъци" was featured on a guest mix by menzurrr on radio.syg.ma alongside material from Amek fam Evitceles. Listen to it here.
Mytrip's "Eyepiece", the opener of his upcoming LP 'Keeper' due on Amek sometime in the near future, Omori's "Struggle against chaos" from the recently released EP Embryogenesis and unreleased music from XI-N, krāllār and a ton more were featured on V-stók's DVNTT podcast. Listen to it here.
Webzine feature
Our first compilation "Vanishing Standards", released December 2019, was featured in a beautiful Zenevloed round-up of late 2019 and early 2020 releases.
Distro update
In the last few weeks, we've managed to stock a ton of new records in our distro. Among the most recent arrivals, we have releases from tsss tapes (find an excerpt of our interview with them below), mappa editions, as well as regular deliveries from Aliens Productions and Zoharum. We're also expecting the newest issue of the brilliant Australian zine noise receptor as well as a ton of other tapes.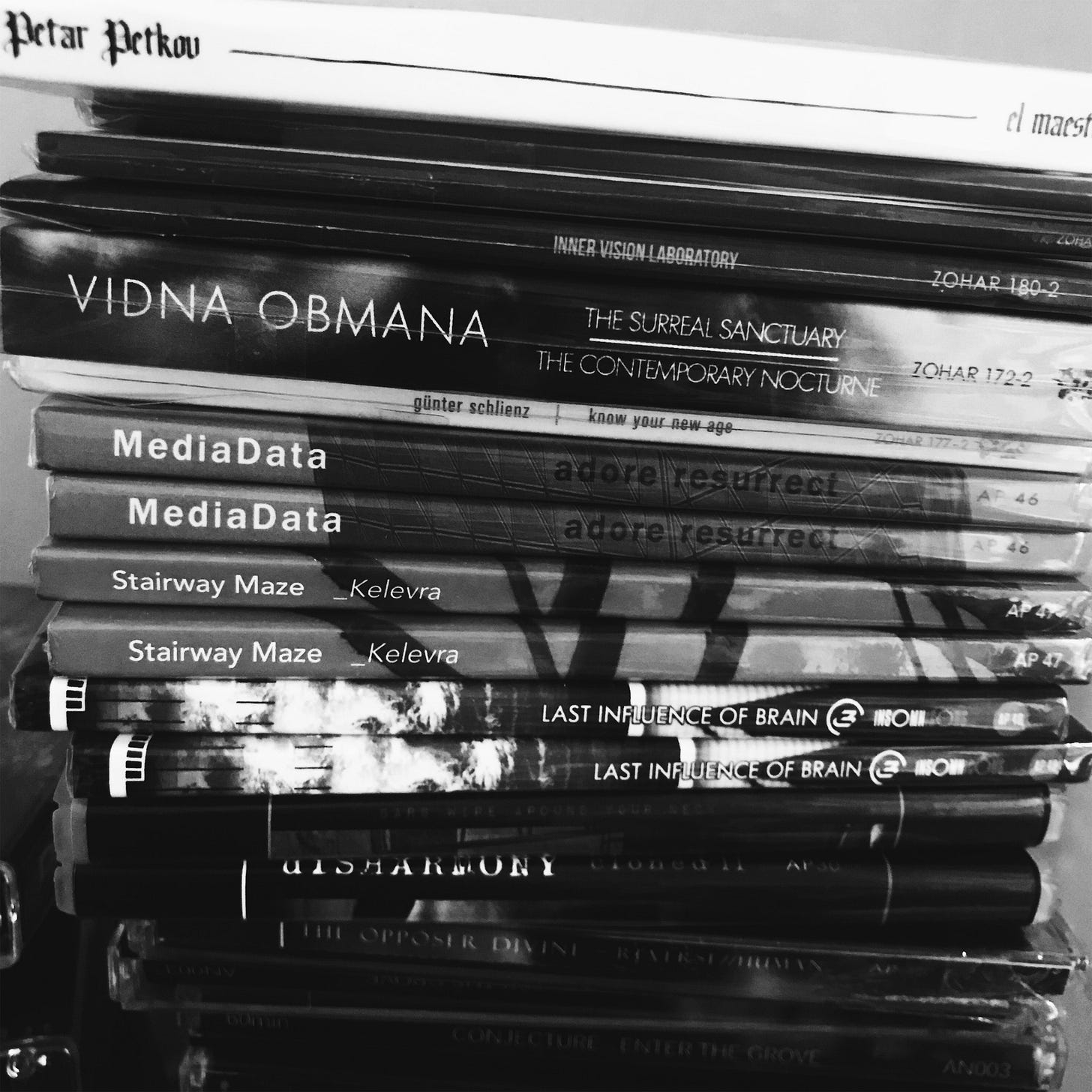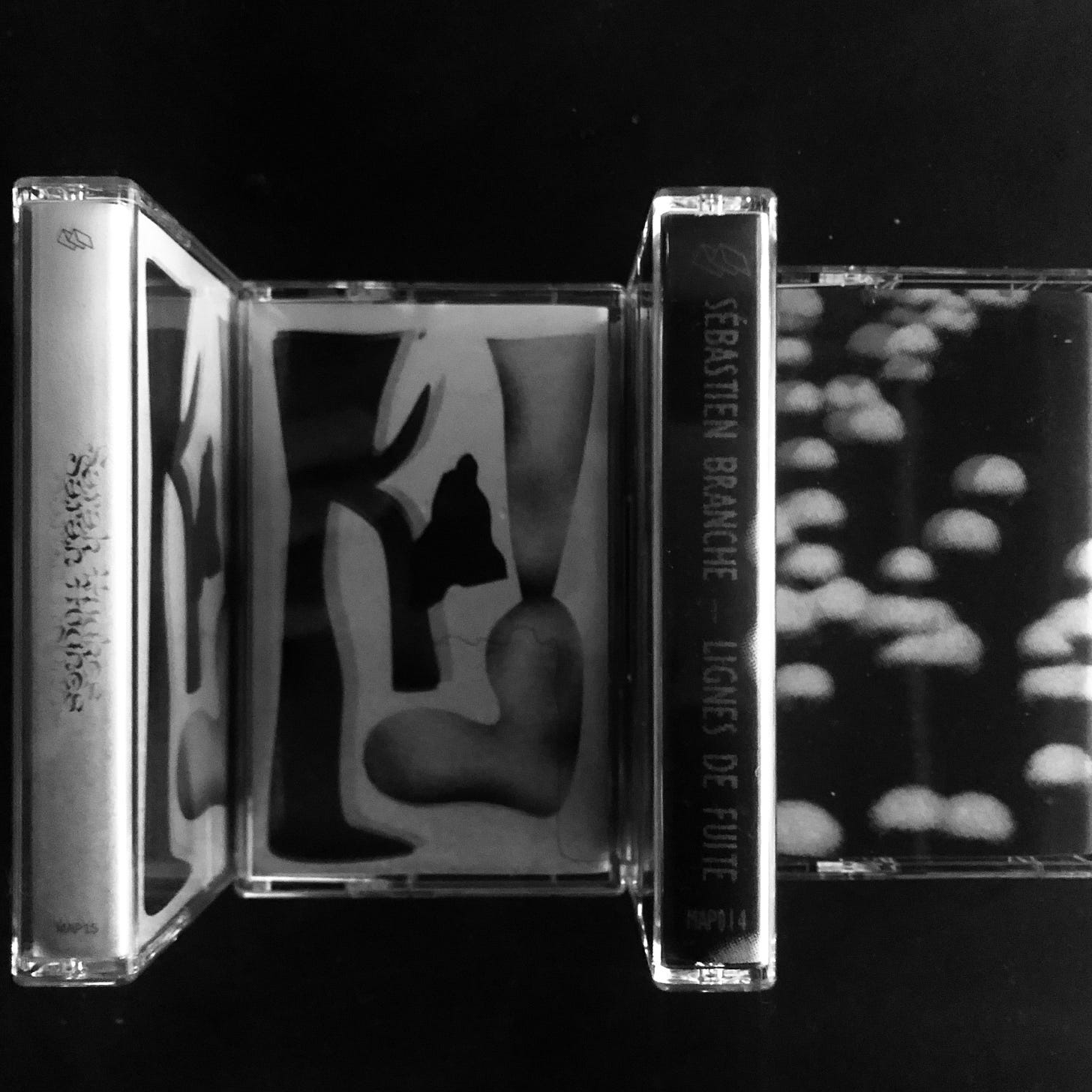 The Beauty of Unexpected Events: A tsss tapes Interview (excerpt)
Tsss tapes is a relatively new Italian tape label focusing on free form/abstract music from around the world. For the year since its creation, it has managed to release nine tapes some of which are collaborations hitherto unfamiliar to each other improvisers, selected by the label curator, the percussionist Francesco Covarino, who also masters all of the releases, together with designing and folding their beautiful minimalistic covers.
Here's an excerpt of the interview that Amek's Martin Lukanov conducted with Cavarino for DIY Conspiracy.
Can you please introduce tsss tapes to our readers? What made you start a tape label, what is the concept behind it and its unique name?
FC: Having my own tape label was something I had been thinking about for quite a long time since I make music myself and have always bought a lot of music—CDs when I was younger, then LPs later on, recently  I got most of the stuff on Bandcamp and this put me in contact with a lot of very small, often one-man operated labels that put out wonderful sounds.
I enjoyed the whole process immensely—watching it grow little by little, talking to the artists, thinking about the tracklist, having it mastered, outlining the sleeve… All of the good things that I had thought running a tape label might have, turned out to be true. And one of the parts I loved the most was, and still is, preparing all the packages and run to the post office to mail the tapes, maybe because it is the most physical part of the whole process, the part where I hold the tapes in my hands and carry them around, I don't know…
Can you please tell us what made you want to release collaborative releases of improvisers who have not met before?
FC: I think when two artists work together, they push each other to get a little out of their usual comfort zone and experiment more, be more curious and bold. Also, improvising in a duo rather than alone allows more space for the unpredictable I mentioned above.
Tell us a little bit more about the artwork of the releases? Who makes it and how?
I love the DIY ethic, so I am the one making the sleeves. I use Microsoft Word for this purpose, not because I want to stay minimal but because I never learned how to use more sophisticated graphic software like Photoshop or things like that. All tapes have the same font and the same layout and for each release, I use some minimal shapes, I let the artists choose the color of the tape and then I start working on the sleeves accordingly. Then I buy the cardboard paper, and I let a typography print and cut the sleeves. The very last part of the process is truly DIY again: at home, I fold all the sleeves one by one inside their case.
To learn more about tsss tapes and their process curating collaborations, read the full interview with Francesco at DIY Conspiracy, it's really worth it!